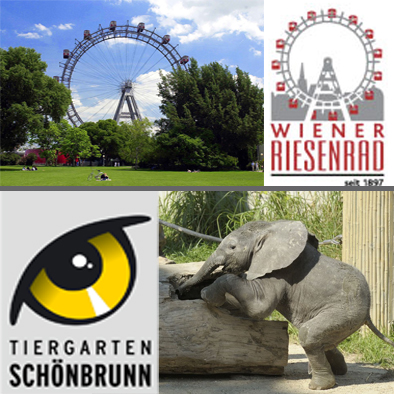 Experience Vienna with your family! An unforgettable visit to the most beautiful zoo in the world – the Tiergarten Schönbrunn and a visit to the Prater to the Vienna Giant Ferris Wheel – fun, action and entertainment for the whole family in one of the most beautiful cities in the world!
4 Days / 3 Nights
3 nights in double room with one extra bed (for 1 child up to 12 years) incl. substantial buffet breakfast
3 tickets for the Zoo Vienna
Tiergarten Schönbrunn is a zoo located on the grounds of the famous Schönbrunn Palace in Vienna, Austria. Founded as an imperial menagerie in 1752, it is the oldest zoo in the world. Today Tiergarten Schönbrunn is considered and regards itself as a scientifically administered zoo which sees its main purpose as a centre for species conservation and general nature conservation as well as in the fulfillment of the education mandate given to it by the legislation. The still preserved buildings of the baroque era, which have been complemented in the last years by elements of modern zoo architecture, convey still a good impression of the 18th century menagerie-buildings after the Versailles model.
3 tickets for the "Vienna Giant Ferris Wheel"
The Giant Ferris Wheel, trademark of Austria's capital city and a symbol of Vienna's world-famous Prater, creates a very special point of reference for every visitor with its unmistakeable silhouette, clearly visible even from great distances.
A circular trip on one of the most significant and fascinating structures in the world, and the unique view of the city of Vienna, make the Giant Ferris Wheel an absolute cultural and architectural must for every visitor to Austria's capital.
310 Euro – Package price for 2 adults and 1 child (up to 12 years)