The Albertina – a Heart of Vienna
Viennas Albertina is situated in the heart of Vienna, only a few steps away from the State Opera. This residential palace at the southern tip of the Hofburg houses one of the worlds largest and most valuable collections of graphic art. Works such as Albrecht Dürer´s "Feldhase" (hare), or Klimt´s studies of women, as well as a comprehensive collection of modern paintings make the Albertina one of the country´s most visited museums. But apart from the unique works of art the palace itself is also amazing. The magnificent rooms, some still fitted out with the original furnishings, give a wonderful insight into the life of the royal offspring.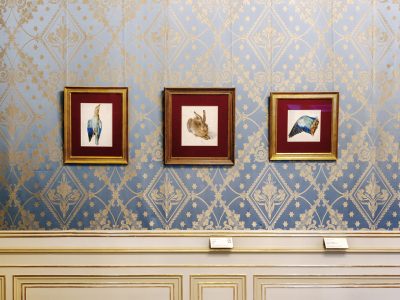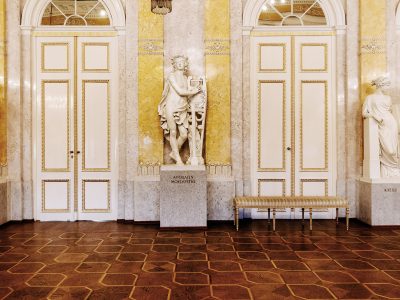 Because no lesser person than Marie-Christine, the favourite daughter of the great Austrian Empress Maria Theresa, once lived in this splendid palace. In 1776 her husband, Albert of Saxony, an art enthusiast, laid the foundation for a comprehensive collection, and until his death he nearly exclusively dedicated himself to its expansion. In those days drawings by Leonardo da Vinci and Michelangelo, or works by Rubens, Rembrandt, and Albrecht Dürer found their way into the Albertina collection. With the end of the Habsburgs the collection, being a royal family heirloom, became the property of the Republic of Austria. For decades this collection was on view to the public for only a few hours a day, but in 2003 the "new Albertina" opened its doors as a modern museum.
In March of this year the second location "Albertina Modern", located in the Künstlerhaus at Karlsplatz, was opened. This museum is dedicated to "Modern & Contemporary Art" on over 2,000 m2 with over 60,000 works by 5,000 artists. Drawings, watercolors, prints and photography by important national and international artists such as Gottfried Helnwein, Friedensreich Hundertwasser, Hermann Nitsch or Maria Lassnig or Andy Warhol, Damien Hirst and Roy Lichtenstein are in the museum's holdings.
Apart from the art treasures, the Albertina has also established itself as a popular meeting place in the city centre of Vienna. The restaurant & cafe DO& CO fascinates with its modern elegance, fine cuisine, excellent service, and its magnificent roof terrace which is probably one of the most beautiful in Vienna´s centre.
Where: Albertina, 01. district, Albertinaplatz 1
When: daily 10:00am  – 06:00pm, Wednesday & Friday 10:00am – 09:00pm
Information: Albertina
Where: Albertina Modern, 01. district, Karlsplatz 5
When: daily 10:00am – 06:00pm
Information: Albertina Modern