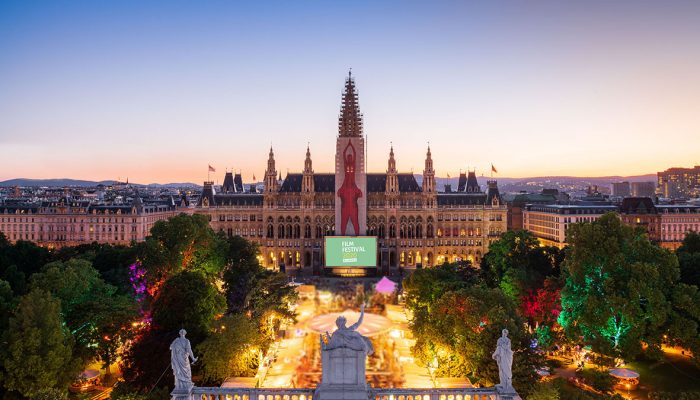 Film-Festival at Town Hall Square
For three decades now, the "Film Festival" has been taking place at Vienna's Town Hall Square in early July, but this year under special signs!
"so WIENie"
From July 4th to September 6th, 2020, on 65 days, visitors will be presented top-class productions from the genre of classical music, opera, jazz and pop on a 300 m² large screen and under the open sky. You can download the complete program from the website.
The protection of health and in order to comply with the safety regulations of the Town Hall Square this year will be divided into two separate areas: a cinema area and separated area for catering. For both areas, special Entrance and Exits are also available!
For the open-air cinema area, entry is only possible via Lichtenfelsgasse and only with a valid ticket (2 hours before the film starts)! At the end of the performance, two exits (Lichtenfelsgasse and Felderstrasse) are available to visitors. Orientation is made easier by floor markings, information signs and LED info walls. Hand disinfection and mouth / nose protection are available free of charge on site.
The 500-seat cinema area is divided into 2-seat and 4-seat boxes. Reservation for the boxes is free of charge and can be made from June 29th on this website or on site at the information stand. The reserved boxes are valid up to 30 minutes before the film starts and will then be allocated as remaining space when not in use!
Culinary
From national specialties to international delicacies – top restaurateurs under the leadership of Do&Co invites the hungry festival visitors from 11:00 am to 12:00 pm for a varied, culinary expedition. A reservation is also required for the 500-seat separate catering area! Tables can be booked soon online through this website. The entrance is right on the ring.
Location & Programm
Where: July 04th to September 06th 2020
Where: Wiener Rathausplatz
From the Hotel Zipser it´s just a short distance to the Rathausplatz. In just a few minutes walking distance you are on the spot to experience & enjoy the film festival.
Picture: © Stadt Wien Marketing