65. Years "Haus des Meeres"
The "Haus des Meeres" is located in a former flak tower (anti-aircraft plant) in the middle of the Esterhazypark and is one of three zoos of the city of Vienna beside the Schönbrunn Zoo and the Lainzer Tiergarten.
Opened in 1957, the Aqua Terra Zoo houses the largest aquarium in Austria, with around 300,000 liters tank and celebrates its 65th anniversary on Saturday, 26 11 2022. On more than 4,000 m² more than 10,000 animals are shown. Among the highlights are the large aquariums with sharks, piranhas, a sea turtle, many corals and colorful fish as well as the tropical house and the Krokipark with its free-flying birds and running monkeys and the Atlantic Tunnel.


Haus des Meeres © Daniel Zupanc

Haus des Meeres © Daniel Zupanc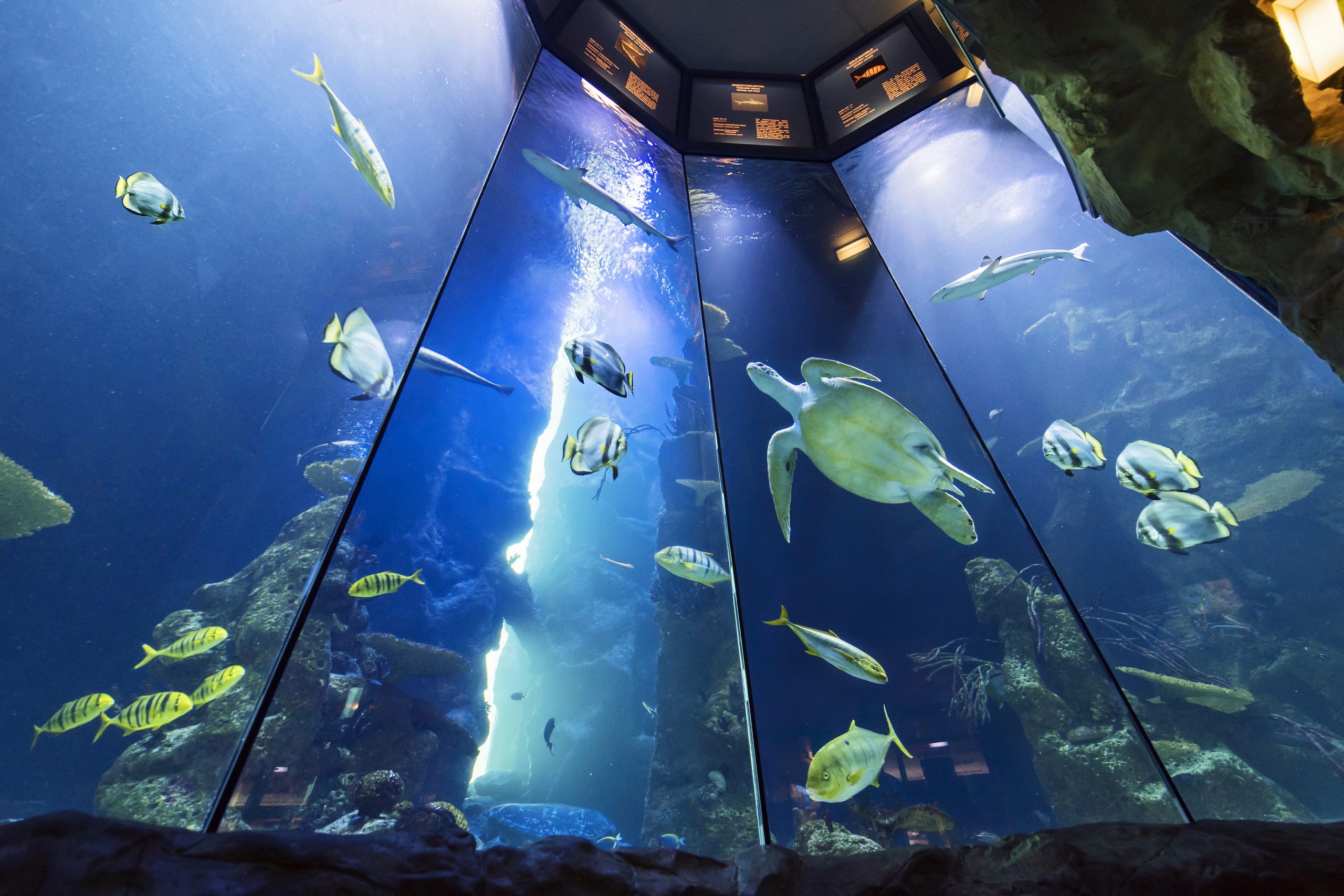 Haus des Meeres © Daniel Zupanc

Haus des Meeres © Michael Mitic

Haus des Meeres © Daniel Zupanc

Haus des Meeres © Daniel Zupanc

The 50-meter-high and 9,000-tonne glass annex on the existing flak tower houses, among other things, the almost 140m2 "Madagascar Department" with indoor and outdoor areas and is the home of (ring-tailed) lemurs. For a surcharge you can admire the fluffy monkeys up close and even feed them after previous safety training!
The latest attraction is the all-round view of the 120 square meter 360° "Shark Aquarium" on the 7th floor of the building, which is accessible from all sides.
The exhibition "Remembering within the Interior" deals with the history of the construction and use of the Flak Tower during the war. The exhibition will include original exhibits and artifacts from the flak tower. After a tour of "Haus des Meeres" you can enjoy in addition to light refreshments and snacks a fantastic panoramic view over the city in the 360° "Ocean Sky" Restaurant & Bar.
"Free entrance" on Saturday 26 11 2022!
When: daily from 09:00am – 08:00pm
Where:

Fritz-Grünbaum-Platz 1, 1060 Wien

Information: Haus des Meeres
From the Hotel Zipser you reach the house of the sea with the bus line "13A", station "Haus des Meeres" or with the subway line "U3" to the station "Neubaugasse". You can reserve your room quickly and conveniently through this page.
Teaser Picture: "Haus des Meeres" © Philipp Heinzl