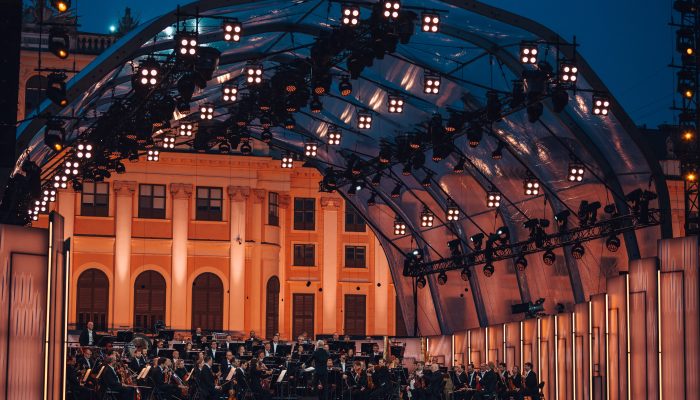 "20. Summer Night Concert" at Schönbrunn
Today, Schönbrunns Baroque park turns for an evening in a festive open-air concert hall. On Thursday, June 08th 2023, the annual Open-Air "Summer Night Concert" of the Vienna Philharmonic will take place in the unique ambience of Schönbrunn Palace and the Park, which is part of UNESCU World Cultural Heritage.
Superlative Concert with free admission
The festively illuminated Schönbrunn Palace, former summer residence of the Habsburgs, the baroque park and the Gloriette offer the fairly-tale settings for this atmospheric concert event. With this beautiful free concert in Schönbrunn, the world-famous Viennese Philharmonic will offer all lovers of classical music, whether locals or tourists a unique experience in front of the famous Neptune Fountain.
Under the Canadian-French conductor Nezet-Seguin, this year's program will focus on French Romanticism to Impressionism. The Latvian mezzo-soprano Elīna Garanča sings arias as a soloist by Georges Bizet, Charles Gounods and Camille Saint-Saëns, among others. Since this is a concert with free admission, no reservations are necessary. At dawn at around 08:30 pm, the Summer Night Concert begins. The ORF broadcasts the concert in more than 80 countries on TV or via stream with a time delay from 9.20 p.m. on ORF 2.
More Information and Maps
From the Hotel Zipser you can easily reach the venue by public transport. Your hotel room can be booked directly through this site.
When: Thursday, June 08th 2023
Where: Schönbrunn Palace, Park (Neptune Fountain, 1130 Vienna)
Information: "Summer Night Concert"
Picture: © Niklas Schnaubelt