Wineries & Taverns in Vienna
"Aus'gsteckt is'" (we're open) – this is how you will usually be greeted when you enter an Austrian winery – if you're lucky, if not you'll be left standing in front of closed doors. The term "Heuriger" is given to a special type of Austrian winery in which farmers have been allowed to sell their own wines and food since 1784 thanks to Emperor Joseph II. "Heuriger" does not only refer to the premises. Austrians use this term to mean wine that has been very recently produced.
The idea behind the creation of the wineries & wine taverns was for the winemakers and the citizens of the respective localities (e.g. Grinzing, Neustift, etc.) to present the current season's wines. Up until the 1960s it was even common for patrons to take their own food to the wineries and only consume wine there. Today, not every winery is a "real Heuriger" – because every restaurant is allowed to call itself that literally, although most of them do serve their own wines and there is of course almost always an ample selection of delicious Austrian cuisine that you can't miss out on when visiting Vienna.
In addition to the wineries, wine taverns have also been established in Vienna and make it possible for you to taste the farmers' own wines amongst romantic vineyards with a beautiful panorama. There are also one or two other typical Austrian dishes – an absolute must especially for those who want to enjoy Vienna away from the hustle and bustle of the tourist areas.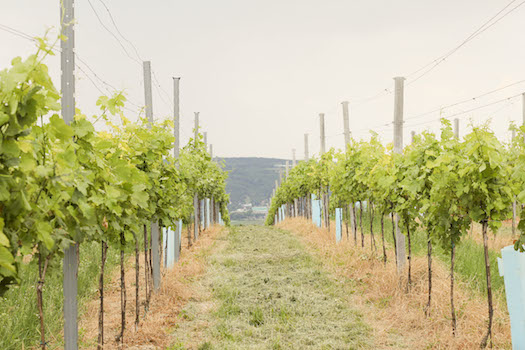 There are numerous wineries and wine taverns in Vienna which are very hard to choose between. If you make your way to Grinzing or Neustift, you can't miss out on these wineries. More wineries can be found on this website: Viennese wineries Wiener Heurige.
Fuhrgassl-Huber
One of the most famous, if not the most famous, wineries in Neustift am Walde. Their own wines are presented here – from Grüner Veltliner to Rieslings – and very good cuisine is also served.
Adresse: Neustift am Walde 68, 1190 Wien (
Webseite
)  
Hajszan Neumann
Great wine is produced here and served in "Die Winzerei", an upscale restaurant with a fantastic setting and fine dining. For everyone who prefers taking a walk: They operate a wonderful wine tavern with a view of the vineyards of Vienna. Wines can of course also be purchased from the vineyards – a great souvenir to take home.
Adresse: Grinzingerstraße 86, 1190 Wien / Buschenschank: Eichelhofweg  (
Webseite
)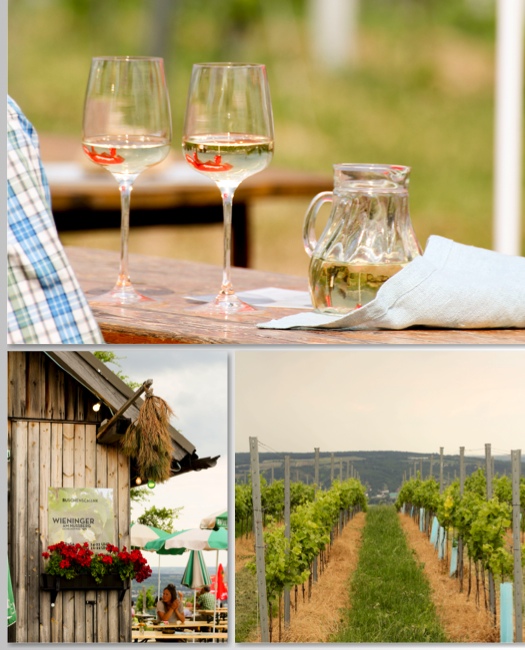 Kierlinger
A slightly rustic winery in Vienna that does not only shine with good wine, but also offers something very special: How would you like to have a picnic in the vineyards of Nussberg? You can do that here – whether as a couple or with the whole family, you can grab a finished picnic and enjoy the vineyards.
Adresse: Kahlenbergerstraße 20, 1190 Wien (
Webseite
)
Mayer am Pfarrplatz
A famous winery that does not only operate as a wine tavern, but also has a restaurant, "Pfarrwirt", just around the corner and a tavern in the vineyards. You can enjoy fine dining here in addition to traditional Viennese home cooking.
Adresse: Pfarrplatz 2, 1190 Wien  (
Webseite
)
 
Das Schreiberhaus
Not a winery in the original sense, the Schreiberhaus is famous for its cuisine & hospitality.
Adresse: Rathstraße 54, 1190 Wien, Neustift am Walde (
Webseite
)
Heuriger Zimmermann
A famous winery that has a long family tradition and its wines come from Klosterneuburg. The atmosphere in the courtyard is beautiful and the chefs make the most amazing Schnitzel
Adresse: Ambrustergasse 5, 1190 Wien (
Webseite
)

Weingut am Reisenberg
You can enjoy Vienna here in elegance and with a wonderful view over Vienna. Events in particular are often held here as there is hardly any other place in Vienna that has such a spectacular view.
Adresse: Oberer Reisenbergweg 15 A-1190 Wien (
Webseite
)
We hope you enjoy tasting Austrian wines! Please note! Not everyone winery is always open. It is important to note the "Aussteckzeiten" (opening hours), which you can usually find out on the wineries' websites.
Teaser Picture © WienTourismus/Peter Rigaud