Every year on New Year's Day not only Vienna but almost the whole world bows before the waltz king Johann Strauss and his family when the musical work of this family is placed at the center as part of the New Year's Concert of the Vienna Philharmonic. Every year since 1939 a worldwide audience of millions accompanies this unique concert on the first day of the new year and is reminiscent of the great Strauss dynasty with their waltzes, polkas and operettas especially in the memorable works created in the 19th Century. The Family Strauss and Vienna are inextricably linked – as far back as "Johann Strauss father" enthused with his orchestra his audience. The identically named "Johann Strauss son" was already early in competition with his father and took over his orchestra after his death and was also active as the conductor of the k.k. Grand Court Ball like his brother Eduard.
The most important and most popular works are the Radetzky March by Johann Strauss I and the Emperor Waltz by Johann Strauss II. The worldwide fame was founded by Johann Strauss II. during his lifetime (1825-1899) when he undertook numerous tours throughout Europe, Russia and America. In the Vienna of today you listen to their compositions during ball-time but also there are many places that remember the great Strauss dynasty. In addition to the Johann Strauss Gasse in the 4th. district in which Johann Strauss II lived in the building built by him "Strauss Palais", the Strauss monument in Vienna's city park is probably the most famous attraction for visitors to Vienna. In the Johann Strauss Apartment in Prater Street 54 you can dip into the time from then and along with numerous exhibits from that time visit the place where Johann Strauss composed his greatest work – "On the Beautiful Blue Danube" – the Blue Danube Waltz. We visited the Johann Strauss Apartment  and took many impressions with us
The entrance of the Johann Strauss Apartment still gives an impression how it looked like during Strauss's lifetime.
The Apartment gives a great impression how Johann Strauss lived.  Here you can find numerous paintings and sculptures of the King of Waltz.
In addition to the house organ of Johann Strauss you can see a precious Armati violin, which – according to a certificate of 1911 – was in possession of Johann Strauss..
The Strauss-Dynasty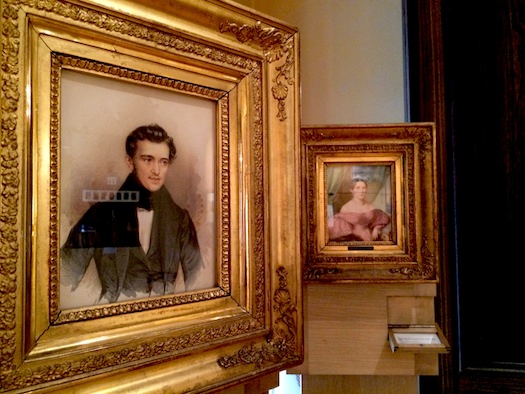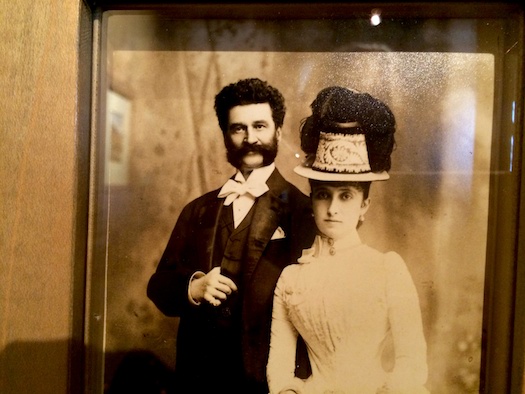 Johann Strauss and his first wife Henriette.
The apartment is worth a visit and quite easy to reach from our hotel.
 Take the U2 in direction to Karlsplatz, take the U1 in direction to "Wien Leopoldau" and get off at Nestroyplatz. After some meters on the Praterstraße you will reach the entrance. the apartment is at the first floor.
© Zipser