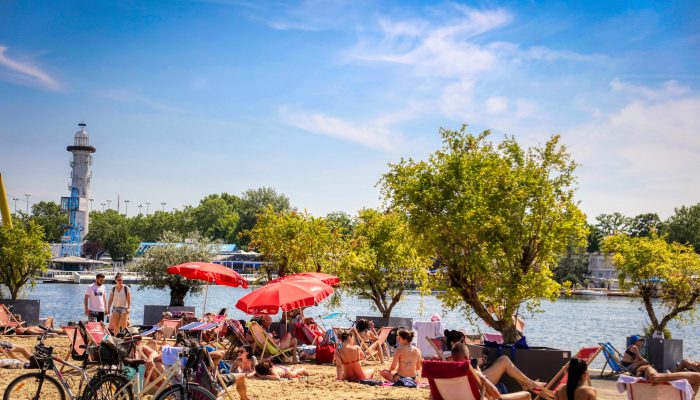 Summer Locations in Vienna
It is summer in the capital of Austria and it is hot again. To escape the summer heat and to soak up some summer atmosphere, the Viennese flock to the city's many beach clubs. While sipping a beer, wine or cocktail in the sun in comfortable beach lounger visitors can bury their feet in the sand and feel like on holiday. Everywhere applies: keep a safe distance!
In addition to cold drinks and some good food, they offer visitors an opportunity to escape from the daily routine – every day, seven days a week. The Danube Canal and the Old Danube – a former branch of the Danube River – are great places to take off and relax during the day It is amazing what you can see here – Rimini-flair in the middle of the city. This is a list of the most popular beach clubs in Vienna, all of which are well worth a visit. They are all within easy reach of our hotel by tramway and are a great place to retreat and unwind after a busy day of work or sightseeing.
Sand in the City – Beach club
"Geeeelatto, Geeeeelatto!" Whoever enters the ice-skating rink next to Vienna Konzerthaus (Wiener Konzerthaus) quickly feels like being in one of the Italian resorts on the Mediterranean coast – Lignano, Caorle or Jesolo – so popular with the Viennese. Right next to the entrance, visitors are offered the latest "must-have watch" at a ridiculously low price, while being observed by tanned men who sit around and chat. In the distance, people are playing volleyball and in between, there is laughter as people are enjoying a meal or a drink. There are various restaurants surrounding the sand-filled square – from Mexican to Greek, giving visitors the chance to get a real taste of the south.
When: June 15th to September 05th 2020, daily from 02:00pm – 00:00midnight
Where:

Lothringerstraße 22, 1030 Vienna

Information: Sand in the City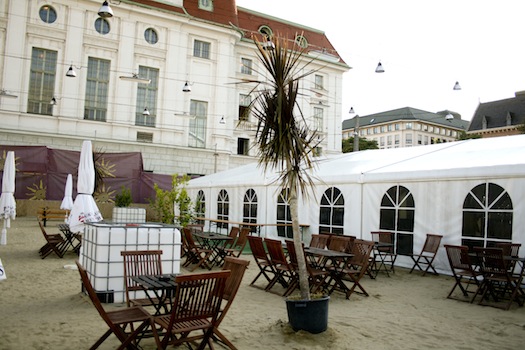 Herrmann Strandbar – Beach Bar
This beach bar in Herrmann Park near Urania on the border with the 1st district, has been around since 2005. This is a sandy oasis in the middle of Vienna, which is highly recommended, and definitely worth a visit. The comfortable deck chairs are in great demand here – to secure one it is best to come before the end of office hours or be quick when somebody leaves – but this does not happen very often. At weekends, visitors are also offered jazz brunches, yoga & more. Further information is available on the beach club's website. Further information is available on the beach club's website.
When: May 15th – beginning October 2020, Mo – Fr: 02:00pm – 11:00pm, Sa/Su: 10:00am -11:00pm
Where:

Herrmannpark, 1030 Vienna

Information: Strandbar Herrmann
Badeschiff Vienna
From Strandbar Herrmann beach club, cross the Aspern Bridge (Aspernbrücke) to get to the other side of the Danube Canal, where there are some other beaches. On the way there, visitors will pass the Pool Boat (Badeschiff) and even though it does not have a beach it is one of most beautiful locations in Vienna, where you can unwind and have a nice meal – the Holy Moly is highly recommended. While swimming in the Danube Canal is not recommended, you can jump in the pool to cool off and enjoy a cocktail on the sun deck afterwards.
When: Pool in Summer from 08:00am – 10:00pm / Bar/Sundeck from 04:00pm – 11:00pm / Coffee-Restaurant from 11:00am – 11:00pm
Where: Donaukanal-Franz-Josefs-Kai 4, 1010 Vienna
Information: Badeschiff Wien
More Information and Map
From Hotel Zipser you will reach with the tram line "1" to Schwedenplatz ("Badeschiff" & "Strandbar Hermann") and "2" along the Ring directly to Stadtpark ("Sand In The City")
Map
Contribution Picture: © Christian Fürthner