For the 23rd time this Saturday the biggest charity -Event for the fight against AIDS will take place in Vienna: The Life Ball. Celebrities such as Dita Von Teese, Charlize Theron, Mary J. Blige, Paula Abdul, Carmen Electra and Kelly Osbourne will come to Vienna to attend the event. On Friday night the "Red Ribbon Celebration Concert" will be held at the Burgtheater. Opera stars like Ana Netrebko or Placido Domingo and actress Hannelore Elsner will be part oft he show. Afterwards celebrities and invited guests will attend the Welcome Cocktail.
On Saturday we'll probably see quite a few "golden" people walking through the streets of Vienna. As every year people who attend the event will get styled to the events theme. Last year it was "Garden of Earthly Delights". Those who were able to get the popular style tickets this year will dress up to the subject "ver Sancrum" (Latin for "Sacred Spring") in gold. A few ideas and inspiration can be found in the Style Bible that was created with photographer Inge Prader.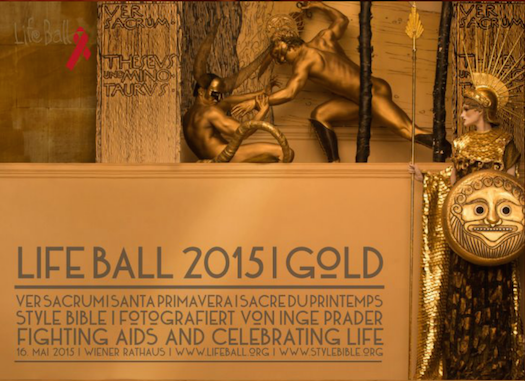 The Opening ceremony on Saturday night will be at the Rathausplatz. Jean Paul Gaultier will present its fashion on the catwalk. 20 years after his personal Life Ball Premiere. The Ceremony will be moderated by the Irish comedian Graham Norton and the Austrian cabaret artists Andreas and Jürgen Maurer Vitasek and the presenter Alice Tumler. We hope in any case for good weather so we can see the beautiful and creative costumes .
The Red Carpet will start at 18:30 on the main square. At 21.30 the Opening Ceremony will start.
From our hotel you are in couple of minutes walk to the Town Hall Square. If you will visit the event, we wish you a glittering ball!