Romantic Christmas markets in Vienna
Some time ago we wrote about the Christmas markets, which were the first to open their doors. Just a week after the remaining markets  opened for the season of Advent – some of these will remain open until next year. While we stayed around the hotel in the first post, we are now a little further into the city and then we'll even go and look at Schönbrunn – the more romantic markets in Vienna.
Old Viennese Christmas Market
During the Christmas season a wonderful Christmas market can be found on the Freyung where you can satisfy your search for Christmas decorations –  here you can find just about anything your Christmas-heart desires. Besides the beautiful things the Christmas market satisfies with selected Punch places, chestnuts and delicious gingerbread. Those who need it to be flour-less won't be disappointed : At the organic Christmas market there are sweets from the "Simply Raw Bakery" – Don't miss out!
22 Nov to 23 December 2013, daily 10:00 to 21:00
1010, Freyung, U2 Schottentor
http://www.altwiener-markt.at/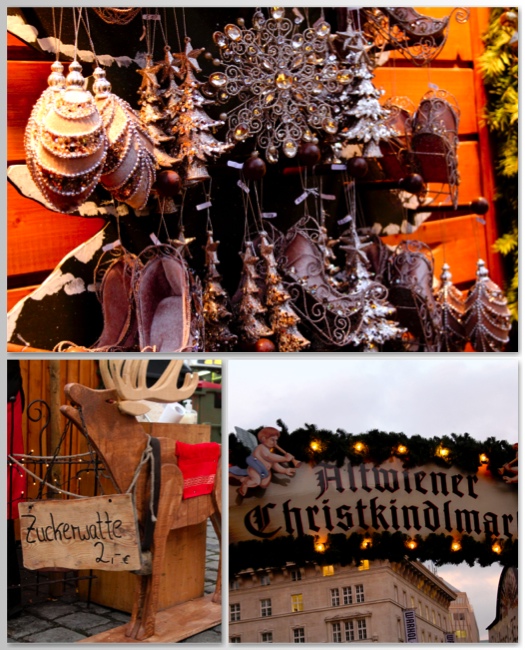 Christmas Village at Maria Theresienplatz
There is also a lot going on at Christmas between the Museum of Art History and the Natural History Museum. The festively decorated stalls have been presenting themselves here since 2008 and offer different things to do with Christmas and culinary temptations. A perfect place to take a rest after visiting a museum, or to warm up after a long shopping day.
20 Nov to 26 December 2013, daily 11:00 to 22:00
1010, Maria-Theresien-Platz, U2/U3 Volkstheater
http://www.weihnachtsdorf.at/maria-theresien-platz/
Craft Market at Karlsplatz
Just in front of the Karlskirche is the wonderful arts and crafts market in  Resselpark. This is the best place for anyone who is interested in arts and craft. Besides the many unique items that you can buy here, you can watch the processing of glass, wood, ceramics, leather and jewellery and thus gain an insight into the craft. Situated at the foot of one of the most beautiful churches in Austria, which creates a very special atmosphere, thanks to its illumination. You can listen to beautiful live concerts here – don't miss them.
22 Nov to 23 December 2013, daily 12:00 to 20:00 1010
Resselpark in front of the Karlskirche, U1/2/4 Karlsplatz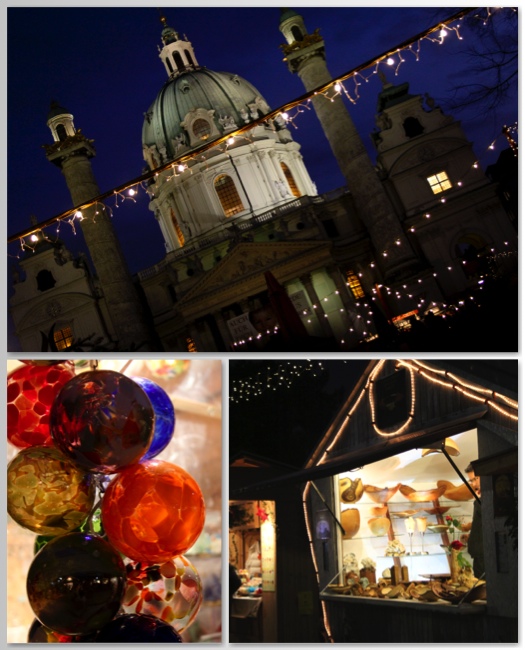 Christmas village in front of the Belvedere
The Belvedere palace charms with its construction. The beautiful gardens offer plenty of space for the Christmas market, which impresses with its simple beauty. Compared to other markets this is fairly new, but loses nothing to the old long-established places. From fine arts and crafts to Christmas decorations you will find everything – a place to relax and especially enjoy the mulled wine.
22 Nov to 23 December 2013, daily 10:00 to 21:00
1030, Prinz Eugen-Strasse 27
http://www.weihnachtsdorf.at/schloss-belvedere
Christmas Market Wien-Mitte
The newest among the Viennese Christmas markets is unveiled at the Wien Mitte station. With almost 30 stalls were set up between the buildings. The surroundings are something more modern to the traditional markets, but perfect for a punch or to enjoy something sweet.
15 Nov to 24 December 2013, daily 10:00 to 21:30
1030, Landstrasser Hauptstrasse, directly at Wien Mitte
Culture and Christmas Market in front of Schönbrunn Palace
Schönbrunn Palace is probably one of the most beautiful places in Vienna. You can spend a wonderful time here, enjoying the imperial gardens or admiring the magnificent rooms both in summer and in winter. In winter, one of the most romantic Christmas markets in Vienna is open here. Set up in a circular shape, it offers you numerous Austrian craftsmen who exhibit their works of art – from ceramics to jewellery – everything can be found here. The large imposing Christmas tree which impresses with its size and shape is set in the middle – a must see, if you are lucky enough to be in Vienna in the winter.
22 Nov to 23 December 2013, daily 10:00 to 21:00
1130, Schonbrunn Palace, U4 Schönbrunn
http://www.weihnachtsmarkt.co.at/



Here to map to get an idea where to find these places:
We wish you a wonderful pre-Christmas time in Vienna!