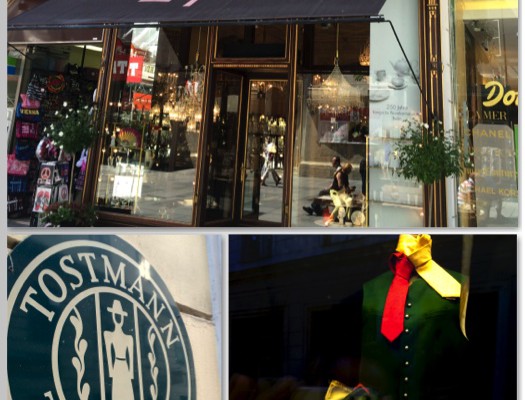 Souvenirs from Vienna – would you like a little something different?
Small souvenirs from travelling, little gifts for your relatives or even collectibles – we take these things from other cities with us to remember our time there or to simply take a piece of the city we visited. In Vienna, this usually means you take something with you as a keepsake, from the Schönbrunn, the Hofburg, a picture of Gustav Klimt, Johann Strauss, the Ferris wheel, a horse-drawn carriage or things on which Sisi and Franzl are pictured. These are the landmarks of Vienna and are among the biggest reasons why tourists visit the imperial city. You can look into the history of the Habsburg people here, enjoy the best cakes and take a little trip back in time. Some gift ideas to take back to those at home include a small Sacher cake, an Imperial cake, Mozart balls, Neapolitan wafers – and if you're travelling further, you'll probably add Sisi plates, Franzl statues and magnets with Vienna landmarks to your suitcase – traditional, just as you would in any city in which you are browsing through a normal souvenir shop.
Or you can opt for something special, something which perhaps not everyone knows about and that perhaps breathes a little something Viennese into your home or life. For example, a lovingly crafted mocha box of "Altmann und Kühne" with wonderful chocolates, a little Mozart Augarten bowl with gold trim, a Lobmeyer carafe made from hand-blown glass, delicacies from the "Zum Schwarzen Kameel" restaurant, silver napkin holders from "Rozet & Fischmeister," a traditional Austrian cloth or dirndl from Toostmann, to name just a few things.
You can not only take Vienna with you here, but can also properly breathe in the famous Vienna buildings and take home Austrian craftsmanship. Except for the chocolates from Altmann & Kühne which are sure to disappear quickly, you can enjoy these things at home forever. If your suitcase is too small, the onward journey too long, or you don't have enough time to go shopping, many of these things and a variety of other Austrian products can easily be sent to your home.
You can conveniently order keepsakes of Vienna via  FromAustria.com from home or sweeten the anticipation of your trip to the imperial city – with a few Neapolitan wafers to sweeten the days until your trip, some more information about Austria, some vienese german memo cards, a dirndl or glasses with a wine leaf design – suitable for a future visit to a traditional Austrian winery.
Take some austrian memories with you!
Credits: © Manner/ Mirabelle/ fromAustria.com